If you're engaged and have started looking at wedding gowns, you know that there are many factors to take into consideration. From the style to the length to the type of train you want, you have plenty to think about! One of the most important things to consider as you begin looking at different styles is which wedding gown color will best complement your skin tone. These are some general guidelines to know as you think about which wedding gown color may be most flattering for you:
Champagne
Champagne is a beautiful wedding gown color that is often overlooked by brides who have only considered the more traditional whites. Brides with pale skin tones often look particularly beautiful in a champagne gown since it provides a nice contrast to their natural coloring.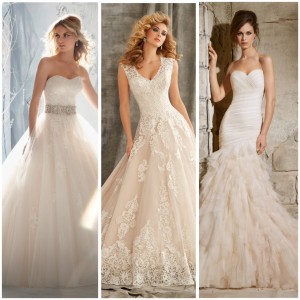 White
It's important to remember that white is not a single wedding gown color. Natural whites are generally the most pure white attainable with natural fibers, while synthetic materials may feature an even brighter shade called "stark white." Those with a darker skin color look stunning in a crisp white wedding gown.
Ivory
Ivory is generally regarded as the most versatile and flattering wedding gown color. Ivory wedding gowns from different designers and in different collections may have a creaminess to the color, while others can have slight yellow undertones.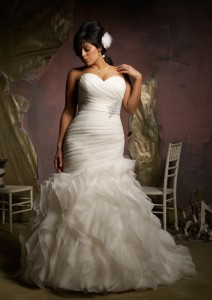 We invite you to look at our website as you start searching for your dream wedding gown. We have a beautiful variety of gowns, including styles from Mori Lee Bridal Collection by Madeline Gardner, Ronald Royce, Kenneth Winston, Julietta, and Richman Group, plus our own couture wedding gowns. Please contact us to set up an appointment with one of our experienced consultants. We look forward to helping you find a wedding gown that will ensure you look and feel your best on your big day!