Finding your dream wedding dress is a moment every girl dreams of. If you're recently engaged, there's no doubt you're excited at the thought of finding your perfect wedding dress! There's lots to think about in terms of figuring out which style will be perfect for you, from the length, to the color, to the cut, and more. And one thing you may want to put some thought into before you come in and try gowns on is whether or not you're open to the idea of a train. Here are a few questions to ask yourself that may influence your thoughts on the topic:
1) Do you consider yourself a clumsy person?
Are you that charmingly clumsy person in your family or group of friends who is notorious for tripping over things? If there's one day you probably don't want to fall or trip over something, it's your wedding day. A train is one thing, along with particularly high heels and a veil, that you may not be used to wearing and might make you even more prone to a trip-up!
2) Are you planning on wearing a specific veil?
We gave tips on choosing the right veil in a recent blog post, and one of the factors we discussed was the idea of wearing a veil that was worn by your mother or grandmother. If you have already committed to wearing a specific veil, that will play a role in helping you choose the perfect gown. A cathedral length veil, for example, may look its best when layered with a wedding dress that has a dramatic train.
3) Is the ceremony and/or reception being held outdoors?
If a significant part of your wedding day will be spent outside, you'll definitely want to make sure your bridal consultant knows that when comparing bridal gowns. A train could easily become dirty and look unattractive if you'll be walking, mingling, and dancing on grass, sand, or other natural surfaces.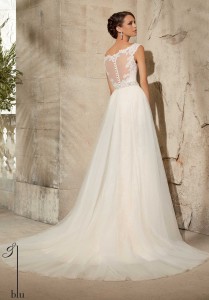 4) Is this your first marriage?
According to strict wedding etiquette, only first-time brides traditionally wear a veil and/or have a wedding dress with a long train. While many modern brides don't give much thought to these traditional rules, some prefer to stick to these guidelines.
5) Do I have someone who can be "in charge of" my train?
The longest, most dramatic trains require a handler who will be responsible for ensuring it looks its best during the ceremony. Usually the maid of honor, the handler will ensure the train is laid out perfectly before you start your walk down the aisle, then arrange it as you take your position alongside the groom. She may also be responsible for helping to position your train during the photo shoot and at key moments during the reception, such as before making your entrance and at the cake cutting.
It would be our honor to help you find your dream wedding gown. We offer our brides an incredible selection of dresses from designers like Mori Lee, Kenneth Winston, and more. Contact us today to set up your private consultation and to see our collection for yourself.