There are countless wedding traditions that have been passed down from past generations that today's couples are happy to embrace. White wedding gowns, garter belts, the exchange of rings, a big cake…these are just a few of the staples you'd expect to see at most modern weddings. While tradition still reigns supreme in most weddings, trendy brides and grooms are looking for ways to incorporate their love of fashion or cultural trends into their special day. Couples want to put their own unique stamp on their wedding, setting it apart from all the other weddings they've attended. If you consider yourself to be one of these trendy brides, here are some ideas on how you can incorporate modern touches into an otherwise traditional wedding and reception:
1) Trade your veil for a headpiece.
Trendy brides can ditch the veil altogether and opt for a headpiece or headband. Feathers, faux jewels, lace, netting,bird cage and other details make a headpiece a memorable part of your wedding day look. Plan a hairstyle that looks just as good without the hairpiece so that you can remove it midway through the photo shoot and during the reception so it's not in all of the pictures you look back on in 20 years (just in case you're not as fond of it in the future as you are now!).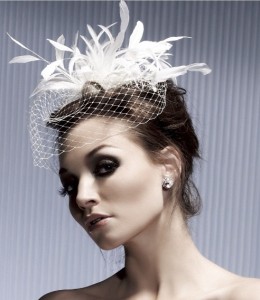 If fashion is a big part of your life, your favorite accessory may be a pair of drop-dead gorgeous shoes. You may be tempted to get those navy blue 6-inch platform heels or metallic spiked stilettos you've had your eye on to complement your wedding day look, and why not? As long as you're used to wearing that type of shoe (and won't be in pain), your feet are the perfect place to show off your love of fashion. Chances are, they'll be covered by your wedding gown, and they won't be displayed in every photo, so why not let loose and wear something that will give you an extra boost of confidence and put a smile on your face?
3) Give unexpected favors to your guests.
Favors are the perfect outlet for expressing your creativity and style as a couple. If you're into craft brewing, brew a few batches of beer and have it bottled, then create a custom label so guests know how special it is. If you like DIY projects, invite your bridal party to help you make the favors from scratch–handmade soaps, wine charms, candles, and magnets are all thoughtful gifts your guests will appreciate.
4) Provide interactive entertainment.
Just about every wedding has a live band or deejay, but how about spicing up the entertainment by inviting someone unexpected? If you and your partner both have tattoos, invite a temporary tattoo artist to set up shop at the reception so that guests can choose a quirky design to celebrate the occasion. If baking is a big part of your life, have a do-it-yourself cupcake decorating station where guests can make their own custom treat. This unexpected entertainment is the perfect way of keeping more traditional-minded guests happy while surprising everyone with something unusual as well!